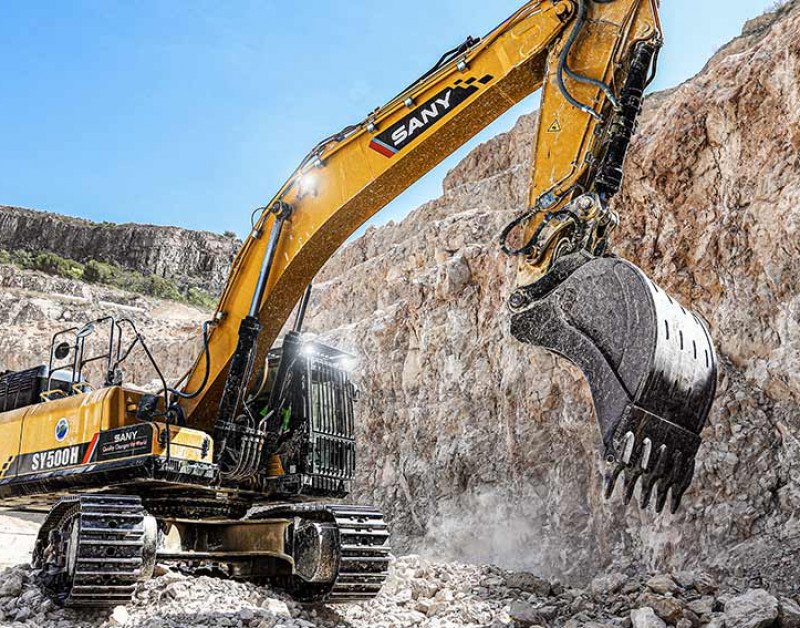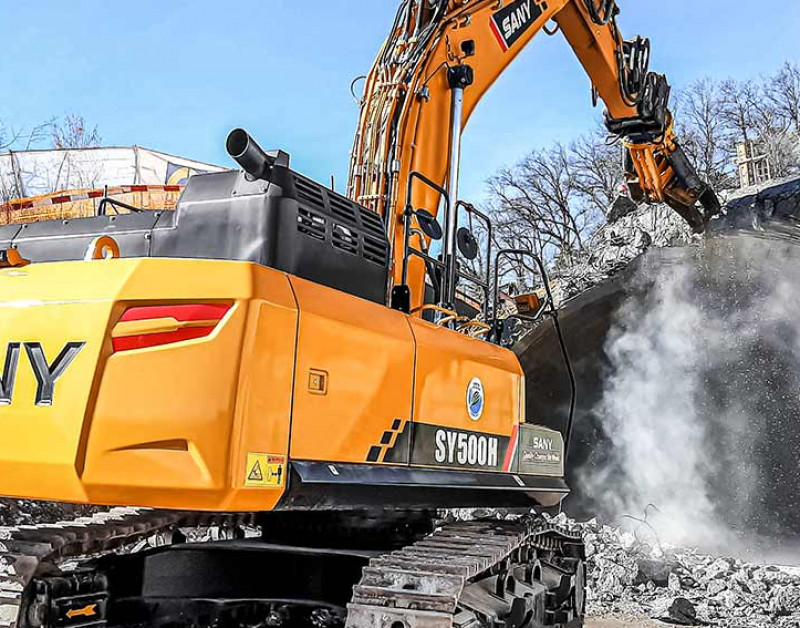 Back to 36-80 tonne
SY500H
50.5 Tonne Excavators
Operating weight
54500 kg
Operating weight
298 kW
Warranty
4 Years / 8,000 Hour*
Engine
Displacement
11,800 ccm
Engine model
CUMMINS QSX12
Max. torque
2034 Nm / 1400 rpm
Rated power
298 kW / 2100 rpm
Operation Range
Height at min. swing radius
9103 mm
Max. digging depth
7705 mm
Max. digging height
10929 mm
Max. dumping height
7647 mm
Max. vertical digging depth
6278 mm
Min. swing radius
5216 mm
Dimensions
Tail swing radius
3850 mm
Track length
5459 mm
Transport height
3874 mm
Transport length
12194 mm
Transport width
3640 mm
Upper width
3292 mm
Undercarriage/Working Device
Track gauge
2740 mm
Performance
Arm digging force
207.0 kN
Bucket digging force
275.0 kN
Fuel tank capacity
680.0 L
Gradeability
35°
Hydraulic tank capacity
480.0 L
Swing speed
8.0 rpm
Travel speed
3.4 km/h / 5.2 km/h
Several attachments and work tools are available to satisfy European and American high-end market demand.
Multiple counterweight weights available. Easily removable to satisfy various transportation regulations and requirements.
The new generation Cummins engine meeting T4F emission standards of the European and American markets.
Operator selectable work modes and all aspects ofthe machine configuration can be displayed on the operator monitor screen for operator convenience.
The widened, heated suspension seat was carefully selected based on many hours of operator feedback.